Lovesigns.Net - Fun with Chinese Horoscope

Fun with Chinese Horoscopes!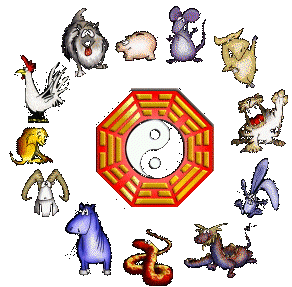 Welcome!
Chinese astrologers divide people into 12 basic personality types which are represented by animals. This website is a practical guide revealing the secrets of your personality trait.
Using your year of birth, the charts identify your Chinese sign and compatibility guide. Click the following links to find out more:-
Like Geomancy.net, this site will be continously updated but specializing in Chinese Horoscope and Astrology. This is the First Edition. Do look out for more:)
Author of LoveSigns.Net
LOVE IS IN THE AIR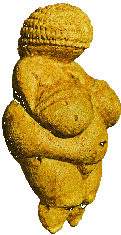 Prehistoric idea of beauty,
Carved 30,000 years ago.
" If we want to be loved we must disclose ourselves to the other person. If we want to love someone they must permit us to know them. "
Dr. Sidney M. Jourard
The nature of love is one of the great mysteries of life.
One way you can improve your relationship and love life by understanding one another's personality.
Details

Written by

Geomancy.Net

Category: Chinese Horoscope
Hits: 8106
The 12 Chinese Horoscope Signs

According to the legend, Buddha once asked all the animals to visit him on New Year's Day but only 12 animals arrived. They were the Rat, the Ox, the Tiger, the Rabbit, the Dragon, the Snake, the Horse, the Ram, the Monkey, the Rooster, the Dog and the Pig:-
In order to honour the animals that had turned up, he decided it was only fair that they and they alone should be awarded a year of their own.
Chinese Horoscope is based on a ten year Sun-Moon cycle which forms the basis of ancient Chinese agricultural calendar. The cycle is divided into the five elements: Water,Wood, Fire, Earth and Metal as well as these 12 animals which represent each year. The system is influenced by Yin (female) and Yang (male) cosmic force which is said to be an interpretation of universal harmony and balance.

A 6th century AD Chinese vase decorated with the images of the 12 Chinese Horoscope signs.
Understanding the characteristics of the animal that rules that year will help you to be more understanding and tolerant of that person and an increased awarness of your own strengths and faults.
---
The Gate of Hope, Singapore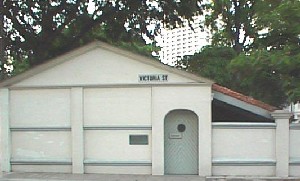 Outside view
At the above (green coloured) gate of the former Convent of The Holy Infant Jesus (CHIJ), many babies were abandoned in baskets to be picked up by the Sisters of the Convent. This was the origin of the Home for Abandoned Babies.
For over 100 years, the orphanage was home to children from poor or broken homes as well as unwanted babies. The orphanage took in many Chinese baby girls born in the year of the tiger - " tiger girls " because of the strong superstitious belief that they would bring bad luck to their families.
In 1963, the Mother Superior noted that this practice was stopped as there was a marked change in this supersitious belief. The Home of Abandoned Babies ceased finally in 1983 when the CHIJ Convent was relocated.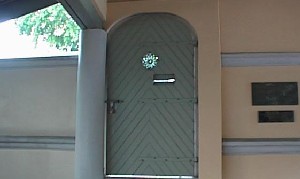 Inside view
Details

Written by

Geomancy.Net

Category: Find Your Sign
Hits: 19207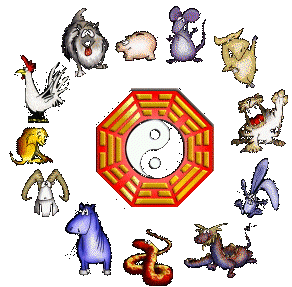 Check your Date of Birth:-
Details

Written by

Geomancy.Net

Category: Chinese Horoscope
Hits: 13101
Compatibility: Rating Scale
(In decending order)
---
Step 1: Do you know the Chinese Horoscope Sign of the Person? If no, click here:-
Else if you know the sign, go to Step 2 below:-
Step 2: Look up the compatibility of person(s) under the Chinese Horoscope Sign:-
Details

Written by

Geomancy.Net

Category: Rat
Hits: 21060




The Rat person is charming and ambitious. They are always busy and seldom able to relax fully. If not, they get bored easily or get bad tempered. They enjoy going to parties or having a quick round of chat.
Rats like to reach their goals by fair play. They are shrewd and not easy to be fooled.

Rats are lively, sociable and easy to get along. They are ambitious and like to see others put in an honest day's work. The Rat is a real family person and devoted to their loved ones and family. At home, does not reveal any of the mean personality traits.
Rats make good advisers to others but not to themselves and are generous to those they truly love even if not loved back.
Rats are also hardworking and thrifty and able to sense danger. Are honest and meticulous and intelligent.


On the negative side, Rats are practical but lack courage. Can be extravagant and greedy. If the Rat is not careful, the greedy side of the Rat could lead to all kinds of trouble.
Rats are secretive, self-indulging and self-seeking. They love to critize and gossip. Rats should avoid being over-work and being over-ambitious.
Avoid trusting another Rat or those born in the year of the Rabbit and Ram.
Characteristics:-

Order of Animals

1st

Hour ruled by Rat

Month

1st Moon

Year

1912, 1924, 1936, 1948, 1960, 1972, 1984, 1996

Season

Winter

Direction

North

Western Zodiac

Sagitarius

Ruling Planet

Jupiter

Lucky Gemstone

Carbuncle or Red Garnets

Force

Famous Personalities

George Bush (Wood-Rat), H.R.H. Prince Charles (Earth-Rat), Marlon Brando (Wood-Rat), David Herbert Lawerence (Earth-Rat)

Career

Suitable in the Service Industry:

Male: Advertising, Food & Beverage, Hotel, Music, Mass Media, Research.

Female: Beauty, Fashion, Film, Hotel & Writing.

Romance

Gentle and loving. However, can get into extra-marital affairs.

Younger Monkey and Dragon makes good companion for the Male Rat.

Female Rat's ideal partner is the Dragon or Ox.
---
Excellent match :
Paring best avoided :
In some instance, be more understanding and tolerant :