Details

Written by

Geomancy.Net

Category: House Hunting
Hits: 51418
Finding a Suitable House for your Family with House Hunting: Can or Cannoty Buy Service
Geomancy.Net's House Hunting - Can or Cannot Buy Service Flow Chart
Floorplan Review Services
Choose between our ON-SITE
or OFF-SITE Review Service
1. About this popular service
" A good home is very important. Why discover that your home has problem after you bought it when you can avoid it before buying the house? "
- Master Cecil Lee
2. What can this service help you?
2.1 Check for any Feng Shui Flaws :-

Toilet in Center of House


C'hi (Qi) Leak


Missing Corner


Suitability to Family


Wealth collection potential
3. Information Needed from you

Layout / Floor Plan of your home


North / South direction marking on the layout plan


Name, Gender, Date & Time of Birth of Family members going to stay in that house


Indentify who is the Breadwinner for the family


Contact Number (if in Singapore)


Full Address (Unit Number, Block Number etc)


Map view of the layout (ie in Singapore use Streetdirectory.com)


Highlight the block which your unit is located clearly on the map view so that we can see exactly where it is located on the map.


Year house was built


Brand New or Resell House


Any Renovations done to existing house or do you plan to do renovations after you move in.


Any additional information you want to provide.
Download House Hunting Information Form [ .DOC / .PDF ]
4. Key Features

Leave it our Expert (Fax / E-mail / optional Onsite Visit)


Review Floorplans by Fax or E-mail to see if there are any flaws or problems (Does not include any review for corrections or proposed best layout placement. etc)


100% Done by Master Cecil Lee
NOTE: Service completion time depends on when you provide all the required information. ie if all information is provided on 1 Jan 2003, and you obtain 24HRS service, you can expect to receive the analysis on 2 Jan 2003.
More resources on Can or Cannot Buy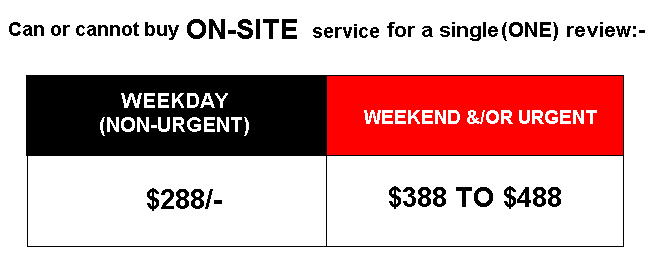 Please call Cecil Lee @ HP: 9785-3171 immediately to book an appointment.
FAQs
Q1. Can I get you to come down to make a Feng Shui assessment of a home I am interested in?
A1: Yes, you can. Generally, depending on his availability, the fee is $288/- for weekdays and/or non-urgent cases. If you need to arrange on a weekend or very urgent cases i.e. by 1 or 2 days time, then the fees range from $388 to $488. Please call Cecil Lee at HP: 9785-3171 to give you an immediate quotation.
Q2. What must I provide?
A2: You need to provide in-advance before the day of assessment:
- all family member's date & time of birth (Time of birth optional)
- a copy of the site-plan or interior layout plan (Optional preferably scan & e-mail to This email address is being protected from spambots. You need JavaScript enabled to view it. )
Q3. How many visits are there and how long does the whole process lasts?
A3: There are usually three or more parties involved: the owner (&/or Agent or co-broke Agent), yourself and myself. We need to arrange a date & time to go into the home (or apartment) for viewing. The viewing takes approximately 30 minutes. Then we will go downstairs to discuss on my findings.
Q4. Terms of Payment
A4: Cash after consultation.
Q5. What you mean by non-urgent or urgent review?
A5: Please call Cecil Lee @ HP: 9785-3171 immediately for a quotation. As he would need to know which day and time you need him to be present to assess the home. Usually if he can accommodate your review, it should be $288. Again, please call him to find out the fees.
POPULAR SERVICE OFF-SITE SERVICE
Choice Stacks (Units within each stack) By Ranking For HDB/Condo/BTO (Built-To-Order) Selection
1. This service is to review "Choice Stacks (Units within each stack) by Ranking":-
2.1. Must be within the same development e.g. a specific condominium.
2.2. For a specified type of apartment e.g. 3-Room UNIT. In addition, if the site-plan does not indicate the specific STACKs that have say the 3-Room UNIT; one must indicate or provide this information. For example: Stacks 20, 22, 24 are or have 3-Room units.
3. I will go through the entire site-plan in relation to if possible external built-up areas (if any). And come up with the best stacks. A sample is attached, below.
4. Please note that this service it will cost SGD288/- with a 14 working days expected completion. For urgent cases, please call or sms Cecil Lee at HP: 9785-3171 .
5. And the final result would be exactly like the attachment = Choice Stacks (Units within each stack) by ranking.
6. This is a very popular (HOT) service. And please note that "IT IS SUBJECT" to availability. Therefore, need to call or sms Cecil Lee at HP: 9785-3171 with us whether I can provide this service, first.
Examples:-
Example 1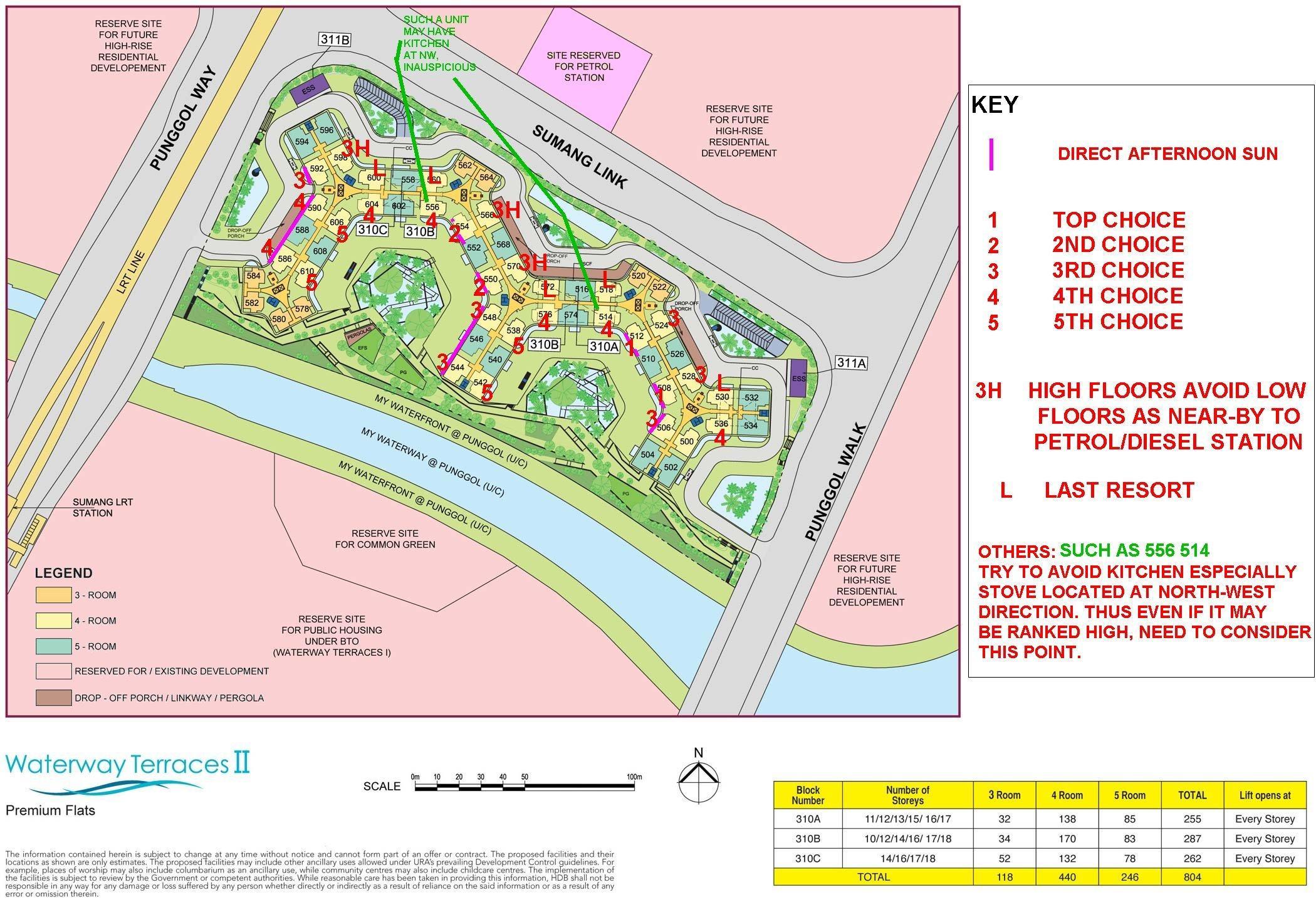 Example 2 (PDF)
View Sample 2 of Service Ranking
OFF-SITE Floorplan Review
To avoid delay, please e-mail or fax us the information required as soon as you have purchased the service.
1WK Can or Cannot buy Floorplan Assessment
SGD $188

Our Non-Urgent Service to review a potential house to see if you should buy it or not within 1 week!
48HRS Can or Cannot buy Floorplan Assessment
SGD $388

Our Urgent Service to review a potential house to see if you should buy it or not within 48HRS!
A client has this to say:-
Sunday, 3 May, 2009 6:46 PM
Dear Master Lee,
I have engaged your services for an on-site audit 2 years ago. We looked at 2-3 units and finally you recommended me to buy a unit in Woodlands. I am glad to share with you that I made a tidy sum of 55kSGD by selling this unit in March 09, after collecting rent for 1 full year! For me, all the homework has paid off. I remember you making a remark that there would be few people willing to spend so much time to do all the ground work that I have done but it would be worth it this has certainly worked out for me.
THANK YOU!
I could not find the same package as previously anymore, where I can send more than 1 floor plans for your review. Hence, Ive decided to spell our my requirements, so that you can advise me on the charges accordingly:
1. Review of 3 floorplans (2 are almost identical, just different facings)
2. Onsite visit on at least 2 of them (if deemed good to buy) ......... and more....
Singapore
Details

Written by

Geomancy.Net

Category: House Hunting
Hits: 44127
House Hunting: Can or Cannot Buy?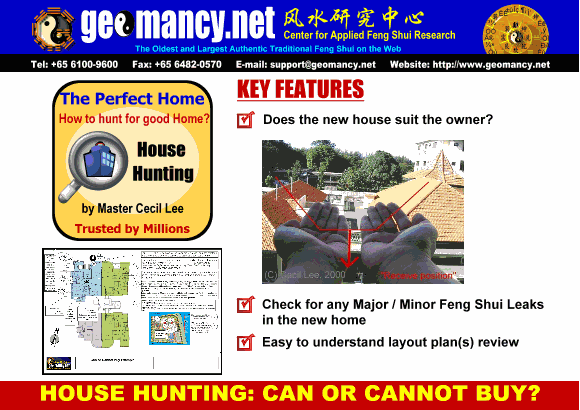 Click to view High Resolution Image
Frequently Asked Questions
Note: Please note that the term `house' used in this FAQ refers to any type of housing e.g. terrace, semi-detached, bungalow, HDB & executive, apartments / condominiums and any other properties that are on sale in Singapore.
I am looking for either a brand new or a good second-hand resale house. How do I go about finding a house that has good Feng Shui that suits my whole family members?
From past experience, this is one is the biggest headache for any family members. A new house is our the greatest capital expenditure and most of us intend to try to find what we feel is a good or excellent house. But often, we end up at a lost or end up not finding any suitable house. Or if we do, we are not too sure if it suits us or has good Feng Shui.
Try to find out the reason why the owner wanted to sell their house?
Always try to find out the reason why the owners wanted to sell their house? It would be nice to hear if the owners are upgrading e.g. to a condominium unit. (A comforting thought although it may not necessarily mean that the house is suitable to you or your family members).
However, if we learn otherwise e.g. the owners ran into financial problems or divorce cases, it is also best in such cases to have a second consideration of such a house before hastily committing to the purchase.
Can I bring my family members to check on the house?
Yes! Bring along all your family members if you can! Preferably, take it as a family outing. Get the reaction from each family member about their impression of the house.
What are things we can look for when buying a house?
Protect, protect, protect! Here, stand at the main entrance door and look out of the house. Do the same at each bedroom window. Look out for any poison arrows in the form of the edge of another building or a temple, a hospital or a lamp post slicing thru the main door or window. In many of such situations, it can be corrected. However, some of the corrections may not be practical all the time. For example, it would imply e.g. using a curtain or blind to block the view (permanently).
Are there any significance in missing corners or protrusions in a house?
Click here to learn the significance of missing corners or protrusions in a house.
Where possible, try to buy a house that has few or no missing corner(s) or protrusion(s). In general, houses with rectangular shape are considered to be `better' houses.
How about the toilet location?
We cannot normally change the toilet location. And since toilet has a `water' position, the wrong placement of the toilet can cause financial problems to the owners. This is particularly true if the toilet is located at the centre-point of the house.
Where possible, the toilet should share an external wall of the house. The toilet should also not be next to the main entrance or above it. These are very inauspicious locations and unfortunately, difficult to cure unless it is relocated to another area. Avoid purchasing such a house if you can.
What is `Quantum Leap' in Feng Shui?
You can say that `excellent houses' are rare indeed! You must be considered very lucky to find such houses.
Case Study 1
The characteristics of such a house is the `Receive Position'. Where your house is ready to receive luck. In the picture below, (at the expense of your neighbours).
---
Case Study 2
In particular, if you are purchasing a HDB flat, do look out for units arranged in the following layout:-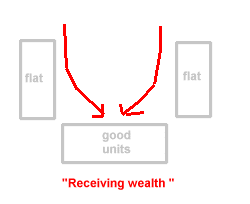 Did you see the good units in the above illustration? You will notice that the good units are showered with good luck or in a similar "Receive position".
---
Other Case Studies

The Tropica Condominium


The Gardens at Bishan


The Sterling Condominium


The Meyer Place Condominium
And many other case studies in the Singapore Property Review.
Are these all the tips on finding a good house?
No, certainly not. You can say that the above tips are just a `tip off the ice-berg'. But these are some of the most common pitfalls which you and your family can becareful of.
Do you have any FREE resources on your website to help us find a good house?
Yes, Geomancy.net has the largest collection of Free Feng Shui Resources on the Internet. Here are some of the free services provided in our website:-
- Free Feng Shui Advice Forum
- Read up on the collection of Free Resources
When you were finding your own house how do you do it?
We are all aware that placing a deposit on a choice house has to be a `quick process!' Any minute wasted and our dream house is lost forever to others!
"This report was first devised specifically for our own use particularly to find good houses/apartments fast.
In Singapore, we all are aware that new housing developments get `snapped' up very fast just within a few minutes/hours or even a day. When Robert first wrote this report, we were at that time looking for a `choice' unit for our elder brother in a new development.
Initially, as this is an early launch, he brought along his notebook. This report was generated first and it helped us to greatly narrow down the `choice' units. After which, within a matter of minutes, we focused on one or two units that suited him. Next, we generated the Flying Star House Report. Immediately after analysing and deciding on a unit, he managed to book the unit.
- Learn more about The Sterling Condominium.
- Learn more about our House Hunting Report
What if I have narrowed down my search to a one or two houses and need your advice?
Click here to find out more about our Layout Review / Onsite Review. The information needed from you are:-

Layout Plan of the house with the North/South

aligning on the layout plan. Usually, this North marking can be found on the landscape layout plan or the actual layout plan of the unit.

Date of Construction


Date & Time of Birth for each family member staying in the house
Make a payment at this link before sending us the layout plan for evaluation.
You can email your layout plan with the above details to us at This email address is being protected from spambots. You need JavaScript enabled to view it.
What happens if at the end of the day I decide not to purchase the house? Does the above fee covers a second or third on-site presence at another site?
No. The above fees is for one specific site per visit per day.
As mentioned, no one can guarantee for sure that you can purchase a house on that day. There are no refunds for this service.
Are there any other more productive way I can go about selecting a house?
Yes, as mentioned above.
Click below to find out more about our:-
- Good House Hunting Report
- Layout Review by Fax or E-mail
- Onsite Review for choosen house
Any Questions? Call Master Cecil Lee at (65) 9783-5171 for more information or to arrange an appointment. Or e-mail us at This email address is being protected from spambots. You need JavaScript enabled to view it.
Details

Written by

Geomancy.Net

Category: House Hunting
Hits: 7066
Floor Plan Expert Review Layout Example