Applied Feng Shui Made Easy Book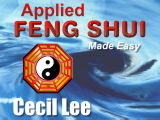 Applied Feng Shui Made Easy (Edition 1) by Cecil Lee
---
Applied Feng Shui Made Easy is an Excellent book providing you with a solid foundation on Feng Shui, Theories, Principles and Applications.
Chapter 1: Introduction to Feng Shui, Tai Ji and Yin and Yang
Chapter 2: The Five Element and Four States
Chapter 3: The Eight Trigrams
Chapter 4: The Heavenly Stems and Twelve Earthly Branches
Chapter 5: The Compass School of Feng Shui
Chapter 6: Are you an East or West Group Person?
Chapter 7: What is Qi?
Chapter 8: The Four Symbolic Animals
Chapter 9: Water Qi
Chapter 10: Site Qi
Chapter 11: The Building and House
Chapter 12: Symbolism in Feng Shui

This book is based on the course materials for the Certificate in Applied Feng Shui (Theories, Concepts and Applications). If you merely want an excellent book but do not want to take a Certificate Course at the moment, this is it! You will be provided an option to obtaining your certificate at a price difference for the administration and certification.
All you need to do is purchase it, download it and begin your own Feng Shui self-study! This online book enables you to be able to search any print only chapters or parts of the books which you require!
This electronic book is free for all course students! As it acts as an offline reference material which you can keep, search or print for your own reference. Each page is properly formatted so that the print out is not truncated as compared to print out by the web browsers.

If you do not have Adobe Acrobat Reader, click here to download it. This Reader is necessary to read and print this book and it is available absolutely free for a variety of platform. If you already have this software installed, all you need to do is download your online document and view it immediately!