Free Personalised Reports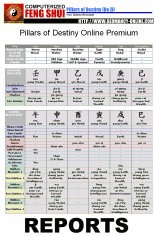 Geomancy.Net uses State-of-the-Art Feng Shui Analysis Reports created personally for us for our professional uses. A sample would be the captured report on your left, which is actually a detailed Pillars of Destiny (Ba Zi) Report.
Are you ready for Authentic Traditional Feng Shui that is personalised to you and your family?
Do you want to follow your passion or discover what it is?
The Free Reports is about encouraging self-discovery at every turn and then helping you do something with it, effectively.