Posted on 24 Nov 2017 (Fri)
Posted on 23 Nov 2017 (Thu)
Posted on 22 Nov 2017 (Wed)
Posted on 20 Nov 2017 (Mon)
Posted on 19 Nov 2017 (Sun)
CHRIS - by chris wee
Posted on 18 Nov 2017 (Sat)
Posted on 17 Nov 2017 (Fri)
Posted on 16 Nov 2017 (Thu)
Posted on 14 Nov 2017 (Tue)
Latest Feng Shui Property Review
Posted on 27 Oct 2017 (Fri)
Posted on 21 Oct 2017 (Sat)
Posted on 18 Oct 2017 (Wed)
Posted on 11 Oct 2017 (Wed)
Posted on 10 Oct 2017 (Tue)
Posted on 06 Oct 2017 (Fri)
Posted on 02 Oct 2017 (Mon)
Posted on 30 Sep 2017 (Sat)
Posted on 28 Sep 2017 (Thu)
Posted on 21 Sep 2017 (Thu)
Posted on 16 Sep 2017 (Sat)
Posted on 13 Sep 2017 (Wed)
Posted on 22 Aug 2017 (Tue)
Posted on 17 Aug 2017 (Thu)
Our Comprehensive & Professional Feng Shui Consultation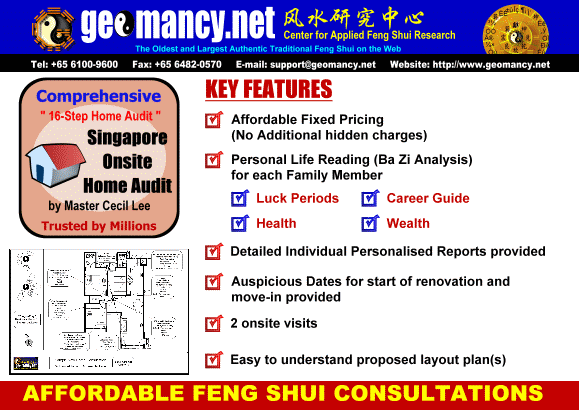 Geomancy.Net's Onsite Residential Feng Shui Audit is the most AFFORDABLE yet COMPREHENSIVE on-site audit in Singapore.
We will provide our Professional Feng Shui services to those in need (sometimes even free, or at a fraction of the cost). Contact us regarding your case.
Features of Our Comprehensive Singapore Feng Shui Consultation
1st visit - to collect all necessary information and perform a comprehensive survey (1 hour)
2nd visit - to discuss with you all findings (ba zi of all family members, exterior & interior house fengshui, room-by-room house explanation, funiture placement, colour scheme etc.) (2-3 hours)
Detailed Explanation & Reports for your reference and understanding
Feng Shui audits do not need extensive renovations or hacking of wall(s). Also, authentic Feng Shui does not require you to purchase any modern commercial products.
International Feng Shui Consultation